Our Director, Freek van den Berg, reflects on 2021.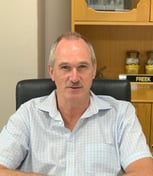 Dear friends
As we near the end of yet another year, we can reflect on many things, failures, victories, ups, and downs. But it is when one takes a closer look that you realise that the positives outshine the negatives. We have so much to be thankful for, so much to look forward to.
During this year, the world and country faced many challenges, challenges that crippled economies, closed down companies, destroyed people's jobs and dreams, leaving people hopeless. Despite the challenges we as a company grew.
Since last year, 22 new faces joined our team, we grew from 48 to 70. We are thankful and humbled by this and would like to acknowledge those who have helped us shape our business.
Being at the helm of MECAD is both a privilege and a great responsibility. I am determined that the MECAD-family will make the very best of the upcoming year. With our strong, motivated team working together with vigorous passion and enthusiasm, we can undoubtedly provide you with the value, quality, and excellence you deserve.
Thank you for your support and loyalty this past year. I wish you and your loved ones a happy and successful 2022.
Best regards,
Freek van den Berg

Holiday Closures:
20 December 2021 - 3 January 2022
Limited Technical Staff will be available during the holiday period